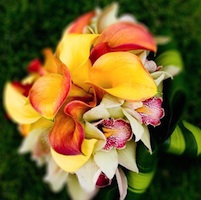 Payment
50 Percent Deposit: A deposit of 50 percent of the total price of your wedding flowers must be received 30 days prior to your wedding date.
Payment in Full: Payment must be made in full 7 days prior to wedding date. We accept Visa, MasterCard.
Cancellations: Sanddollars issues a full refund of your deposit if cancellations are made at least 21 days before the wedding date. For cancellations made within 14-21 days of wedding date, deposit will not be returned. If cancellation occurs within 7 days of the wedding date, the full payment is required.
Delivery and Set Up Fees: *A $50 delivery fee is charged for weddings outside Waikiki or the metro Honolulu area. Delivery in Waikiki or elsewhere in metro Honolulu is free. Set up fees are determined by the scope of wedding.